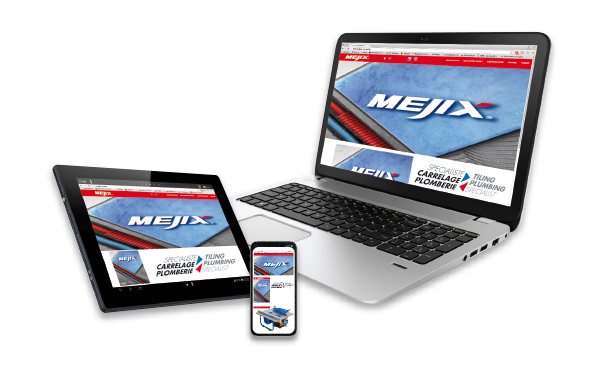 Mejix, a whole range of tools for tiling and plumbing, in DIY or professional, is a French brand created in early 1993.
It belongs to Peugeot Outillage, a French company, human scaled, located in St. Pierre-des-Corps, near Tours (France-37).
Peugeot Outillage is a French actor in tooling. The products of its two flagship brands, Peugeot for general power and workshop tools, and Mejix for specialized hand tools, are all developed / designed from St. Pierre-des-Corps in France.
It is also there that our after-sales service is integrated in the company. We save some spare parts for our tools up to 10 years beyond the end of a product's life. This push our end users to consider repairing an out-of-warranty tool themselves and then extending its life.
An facilitating brand so that everyone can embark on their project with confidence!

All the people who bring this brand to life, try to help end users of the Mejix product to be able to do it «by themselves». This requires a step-by-step presentation of products in DIY stores. Thus a client will face a department which will propose him, for example, products dedicated to wall or for the floor tiling. Then it will be easy to find products and tools for cutting, finishing and fixing.
The packaging itself wish to be as educative as possible
This site, with its tutorials, and the presence of Mejix on social networks, are additional levers to make possible what may seem too technical for some of us.
Always with a concern for transparency and re-insurance, Mejix products, to be assembled yourself, are all presented on this site in an «unpacked» version. So everyone knows, in advance and in detail, what they are going to buy.